I'm so glad to be rolling in Pearl Theatre Company's big 30th season with them, shooting You Never Can Tell, directed by David Staller and co-produced with Gingold Theatrical Group! I must admit, I'm a bad theatre person – I don't really know Shaw that well. The closest I've been is My Fair Lady. This show shared some common themes with Pearl's 29th season closer, This Side of Neverland, by J. M. Barrie (specifically, the second piece, The Twelve Pound Look). They were both of an era and dealt with women coming into their own, having cast aside their men. But while Barrie was very sympathetic to his emancipated women, Shaw was a little less so. Mrs. Clandon, the proto-feminist, seems unsure of the conviction of her choices by play's end and her daughter/protégé Gloria seems "doomed" to be ensnared by love and lover and to be married.
The shoot itself went without a hitch – The Pearl stage is so spacious and well lit, that there are really no technical challenges, so long as you're able to keep on top of your exposure triangle as the lighting shifts. I kept the ISO at 5000 to 6400 and was able to keep my aperture at around f8 throughout, giving me a nice manageable depth of field. They gave me the run of the first three rows, which was wonderful – though I favored center and house right for most of the evening.
One challenge I'm dealing with, aesthetically, is how to handle the wide shots when the whole cast is spread across a rather wide stage. Unlike Luft Gangster, where it was a challenge to get the whole playing space in the frame (because the house was so small, I was shooting from the actors' laps), I can capture the whole space, but the actors get lost in the vastness of the space (i.e., the composition isn't very compelling).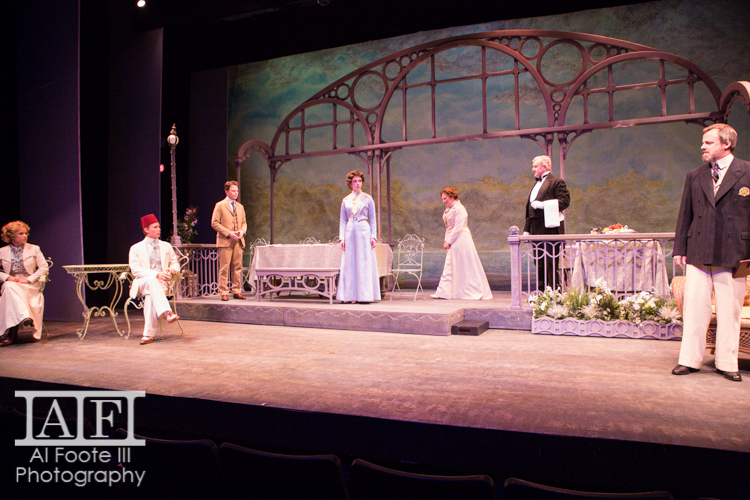 In fact, in reviewing the shots I delivered, none of the "top shots" are particularly wide. Some of the "second tier" shots are, but they're more about the scenery than the actors. If everyone's on the same plane and downstage, I can shoot from extreme right or left, but on a stage like Pearl's, they can have significant upstage depth and most directors hate a bunch of actors downstage on a board, unless you're doing A Chorus Line! I'm thinking that wide angle lens I'm convincing myself to purchase may come in handy here, as well. That way I could shoot from as close to the stage as possible (larger actors) and still have the whole stage in frame. Of course, then there's the danger of some barrel distortion, but these are the trade-offs that get made!